If you're shopping for a small luxury SUV, you'll have many options to choose from. Two of them-the 2019 Jaguar E-PACE and BMW X1-really stand out in the segment and make a great way to explore Hardeeville, Bluffton, and Hilton Head Island.
However, they differ in several key ways, and one or the other may be a better fit for your driving needs. In this car comparison, we at Jaguar Hilton Head will put these two rides side by side, so you can determine which suits your purposes best!
E-PACE vs X1: Engine Specifications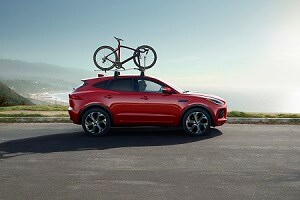 These are luxury vehicles we're talking about here, and shoppers like you will be looking for power under the hood. The 2019 E-PACE and X1 don't disappoint, with incredibly potent engines.
The X1 offers a single turbocharged 4-cylinder engine that generates 228 horsepower. It's a lively engine, but the E-PACE has two turbocharged 4-cylinder engines to choose from, and both are a bit more potent than the X1's.
The Jaguar SUV gets 246 horsepower from the base engine and 296 horsepower when equipped with the upgraded engine. You'll really speed down the highway with either of those powerhouses at the helm.
Another E-PACE advantage? It offers standard all-wheel drive (AWD), so you can enjoy surefooted grip on slippery roads. The X1 offers an available AWD system, but you'll need to upgrade if you want to have all the benefits.
Exterior Features & Design
If you're looking to turn heads with your next luxury SUV, the E-PACE has what it takes. Its look is bolder and more sporting than the larger F-PACE, and it also takes design cues from the F-TYPE luxury sports car, like those swept-back headlamps. The overall impression is of an athletic SUV, crouched and ready to pounce.
By contrast, the BMW X1 is boxier and more angular, lacking the sleek curvature of its Jaguar competition. Overall, it's much less futuristic, and it doesn't hit quite the same notes of aggression, with its wide-eyed, more rounded headlamps.
The Jaguar E-PACE and BMW X1 share a close attention to functionality, with optional LED headlamps that shine brighter and longer, all while using less energy. The signature J-blade headlamps in the E-PACE look especially stylish and modern.
Advanced Technology Features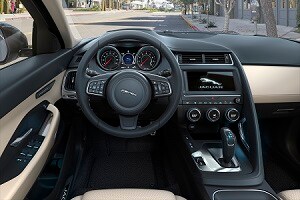 It's easy to stay connected while you're on the road in either the 2019 E-PACE or X1. You can surf the web and get some last-minute work done with optional Wi-Fi® hotspot technology. If you need directions to your destination, the available navigation system will oblige.
However, only the E-PACE offers touchscreen functionality: The X1 screen must be controlled via a rotary knob on the center console. The knob works effectively, but it requires a bit more attention from drivers than the touchscreen on the E-PACE does.
Plus, while the E-PACE uses a standard 10-inch touchscreen, the base screen in the X1 is just 6.5 inches, which makes for smaller visuals in the BMW vehicle. 
Jaguar E-PACE vs BMW X1: Choose Your Luxury SUV
At Jaguar Hilton Head, we're all about helping Hardeeville, Bluffton, and Hilton Head Island drivers learn and discover their options. Now that you've read our 2019 Jaguar E-PACE vs. BMW X1 car comparison, which small luxury SUV appeals most to you?
Across a range of qualities, from engine performance to exterior style, the E-PACE manages to stand out from its competition. Give us a call if you'd like to experience it for yourself. We can help you schedule a test drive and get behind the wheel!